Disposable vapes gained significant popularity in 2020 through appearances on many social media platforms – adding up to over 2.9 billion views of the hashtag #vaping on TikTok with 9.4 million posts on Instagram.
However, strict regulations have since come into place for the UK preventing those under 25 from advertising nicotine products on the platform, resulting in a recent video coming under fire.
After breaching the app's latest guidelines, Tik Tok star George Baggs  – who first rose to fame through his appearance on Channel 4's Gogglebox alongside his family – had his video removed.
A screenshot of George Baggs from his Instagram account @georgebxggs
The influencer boasts an impressive 1.3 million followers on the app where he posts relatable fashion-based content to a variety of online fans.
However, the now banned video where George shows off a 'HQD Tech 'Wave' disposable vape has garnered some unwanted attention from UK Watchdogs.
The TikTok in question shows the 19-year old star getting dressed while vaping with the caption "Matching my outfit with my new HQD v@pe" including the vape related hashtag '#HQDVIP'.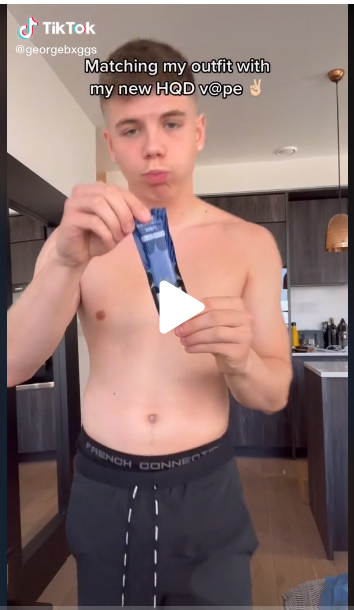 A screenshot from the banned HQD Tech post by George Baggs (ASA/PA)
George's content was called into question by The Advertising Standards Agency (ASA) as it came to light that he was promoting a product despite being under the age to advertise.
With no '#Ad' disclosure attached to the video, it also became clear that Baggs had violated another rule as all posts must visibly state if branded content is involved.
It appears that the post was shared to Tik Tok's 'For You' page – an algorithm-led part of the app – where content can appear without members needing to follow the account.
HQD Tech said it did not think George Baggs was encouraging viewers to try its products but it removed the content from the influencer until the conclusion of the ASA investigation.
Off Limits Entertainment, on behalf of Mr Baggs, claims it has spoken to HQD Tech and will ensure he does not promote any more vaping products in the future.
Discover more News from Vapouround
Enjoyed this article? Why not take a look at our other vape articles by visiting the 'News' section of the Vapouround website.
The post Tik Tok Star Banned From Posting Vape Content appeared first on Vapouround.