Credit: Pastel Cartel
Two warning letters to firms that manufacture popular flavored, disposable e-cigarette products have received warning letters from the U.S. Food and Drug Administration.
Shenzen Innokin Technology Co. Ltd., the producer of Esco Bars products, and Breeze Smoke, LLC who import and distribute Breeze products for manufacturing, distributing, and/or importing unauthorized tobacco products in the United States, according to the FDA.
Esco Bars and Breeze are presently among the most commonly sold brands of disposable products in the United States.
"Today's actions underscore FDA's commitment to protecting youth against illegal flavored, disposable e-cigarette products. On May 12, FDA also issued an import alert for Esco Bars products," according to an FDA statement. "The import alert places these tobacco products on the red list, which allows FDA to refuse or detain the product at the time of entry and to prevent illegal products from being distributed in the U.S."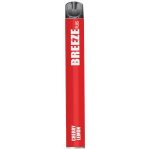 Credit: Breeze
Brian King, the director of the FDA's Center for Tobacco Products, said the science clearly shows that a majority of youth who use e-cigarettes report that the products they are using are disposable and flavored products. "Given their appeal to youth, these products are a priority for FDA compliance and enforcement action," King said.
FDA generally sends warning letters the first time an investigation or inspection reveals a violation. A majority of recipients of warning letters correct the stated violation.
However, failure to promptly correct the violations can result in additional FDA actions such as an injunction, seizure and/or civil money penalties.
The post U.S. FDA Warns Vape Makers Esco Bars, Breeze Smoke appeared first on Vapor Voice.